Big man tune for the kings dem a raised in Babylon and tings, Sire!!!! Seen!!! RIIIIIIIIIIIIIIIGHT!!! Blup, Blup, BLUP!!! DIGGUMZ!!! - fatherama (hahahahahahahahahahahahah!!!)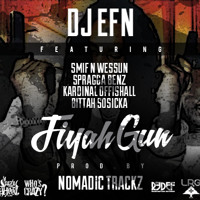 check the descript:
DJ EFN feat. Smif-n-Wessun, Spragga Benz, Kardinal Offishall, Bittah Sosicka - Fiyah Gun (Prod. by Nomadic Trackz)
New leak off of DJ EFN's upcoming project "Another Time" available March 3rd.